Welcome to Joanna Hotel on Patmos Island! The friendly and pleasant apartment hotel is in the peaceful village of Grikos, on the southern side of Patmos, just two hundred meters from the beach, which is especially suitable for families with small children.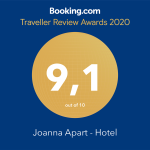 Comfortable accommodation a few steps away from the beach
Hotel Joanna consists of two different types of rooms, the studios of 2-3 persons and the two-bedroom apartments which can accommodate from 3 to 4 people. Our rooms were renovated in October 2017 in order to provide our guests with unique accommodation facilities in a beautiful and warm environment that feels like home. The renovation of our Patmos studios was completed with love and passion by a local team of Greek craftsmen who built our handmade, metal bedroom furniture.
This is a place different from the world of uniform of many starred hotels. Here you can find a nice beach just for yourself and you can enjoy the traditional Greek cuisine. This is the place for you to find the ultimate peace within yourself that you have always been looking for.